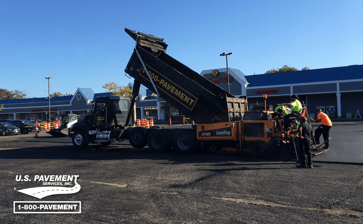 When researching and selecting the right contractor for your upcoming asphalt or concrete project, you'll find many options. Not all full service pavement contractors are created equally, however. A great start when selecting your contractor is their ability to balance the complexity and capacityof a multitude of projects. Your property and project are unique so there should never be a "cookie cutter" approach. Of course the bottom line rules the day but what about measuring the true value of what you're actually receiving as the final product? There is much to consider when making your final decision. Here are 4 reasons why U.S. Pavement Services should be your choice.
1. Unmatched Customer Service

Providing superior customer service while efficiently delivering quality projects for our clients is what directly guides our pricing, planning, execution and results. Completing projects on time and on budget is always the goal but if your regular business operations are disrupted is the goal truly met? Maintaining a safe but fluid and responsive work area during business hours is not just our specialty but our standard. Our Project Managers work closely with your team to properly plan and phase each project according to vehicle and pedestrian traffic, scopes performed and safety standards. With clear and timely communication, our client collaborative approach maximizes efficient work flow for our teams on site and minimizes adverse impact on tenants, customers, residents and other visitors to your property for the duration of the project. Our commitment to customer service has resulted in a 92% customer retention rate.
2. Quality Workmanship

Our standards of quality begin at the hiring process. Our crews are comprised of skilled pavement and concrete professionals who take great pride in their work and are led by our team of experienced foremen. No job is too big or detail too small for the seasoned men and women who make up our staff and crews. On site, planning and phasing best practices along with appropriate scopes and detailed specifications ensure that projects are done correctly the first time. Beyond that, a series of quality control checks is done throughout the project and any issues are addressed in real time. The job is not complete until the final sign off by the client after a review and inspection of the site. U.S. Pavement's commitment to maintaining the highest standards in the industry often results in exceeding client expectations. In 2016 U.S. Pavement Services was honored as the Contractor of the Year by Pavement Magazine, the voice of the industry and consistently ranks among the nation's best contractors in their annual evaluation.
3. National Reach, Local Approach

The 800 Pavement Network, established by U.S. Pavement, has assembled the leading asphalt and concrete professional's network nationwide. 12 of the top 14 retailers in the country trust U.S. Pavement with their asphalt and concrete projects. Delivering value back to our partners is an essential part of the business relationship we have with clients. We can leverage our tremendous national buying power to secure the best available pricing for materials. That savings is passed along to our clients and cannot be matched by other national contractors. Also, unlike most national contractors, U.S. Pavement self-performs in the northeast. Your project, no matter its location, is not just a line item on a spreadsheet. It is work we have an intimate understanding of and preform ourselves every day. Nationally, we have done work in 46 states and Canada and our Network continues to grow.
4. Commitment to Community

U.S. Pavement believes in giving back to the cities and towns it services. Our 2 signature initiatives,Made in America and Pledge to Hire Veterans, reflect our fundamental beliefs about good business practices and service to country. Prioritizing American companies and workers benefits everyone. We've spent over $4 million more buying American made equipment, goods and services over sometimes less expensive foreign made comparable items. Raising awareness related to military veterans returning the civilian workforce inspired our Pledge to Hire Veterans. U.S. Pavement Services encourages all of our business partners to participate in these initiatives and takes part in many other local and national programs that strengthen communities. To date, U.S. Pavement Services has donated over $100K to veteran causes since 2014.