U.S. Pavement Services, Inc. is proud to announce that the company has been chosen as one of America's Top Contractors by Pavement Maintenance and Reconstruction Magazine for the third time. For 2015, U.S. Pavement Services has been listed as a Top Contractor for four (4) different award categories: Sealcoating, Pavement Repair, Line Striping, and Paving.
Pavement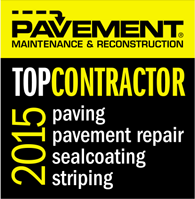 Maintenance and Reconstruction Magazine is the leading industry publication for the paving, sealcoating, pavement marking, and sweeping industries by providing news and "how-to" information to assist contractors run their businesses more efficiently. As such, this list represents a strong snapshot of the largest and most successful pavement contractors in the nation.
The list is based purely on sales volume by category, and U.S. Pavement Services' placement among the Top contractors after thirty (30) years in business is a testament to their success and longevity.
The 2015 list can be viewed here.
"I'm very proud of our team for once again being named one of the top contractors in the country," praised U.S. Pavement CEO Mike Musto. "We've been on this list three years in a row, and I'm thrilled for our company's continued growth and success."
For more about U.S. Pavement Services or to schedule a FREE site evaluation, call 1-800-PAVEMENT or visit www.uspavement.com