Parking lots come in many different shapes and sizes. As a result, pavement and concrete projects are a balancing act of complex variables -- like ADA compliance, long-term asset management, and reducing or eliminating short-term liability issues – and the capacity to perform work without impacting your property's operation. Solving the Complexity/Capacity dynamic for our clients has been the core of our approach and success over the past 30+ years in the pavement business.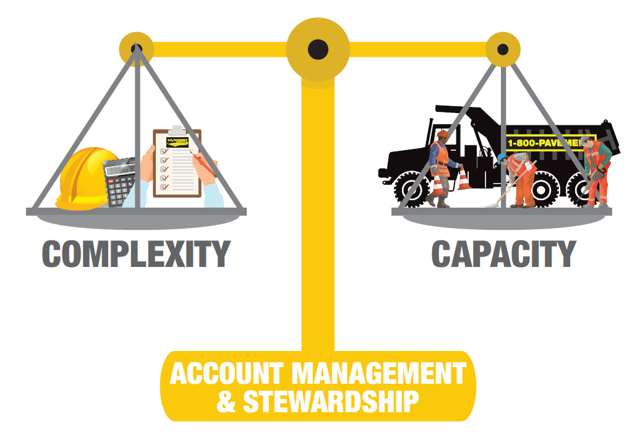 At U.S. Pavement Services we have built Operations and Construction teams that service our clients with the Complexity/Capacity balance in mind. Scheduling varied projects with many different scopes and with multiple crews, trucks and equipment requires big-picture planning and detailed execution. Having the capacity, as we do, to deliver any project (big or small) at any time the client requires is how we measure success. Expertise to handle any level of complexity is the other side of this balance. We've built an experienced and professional project management team prepared to handle any project and deliver on-time, everytime.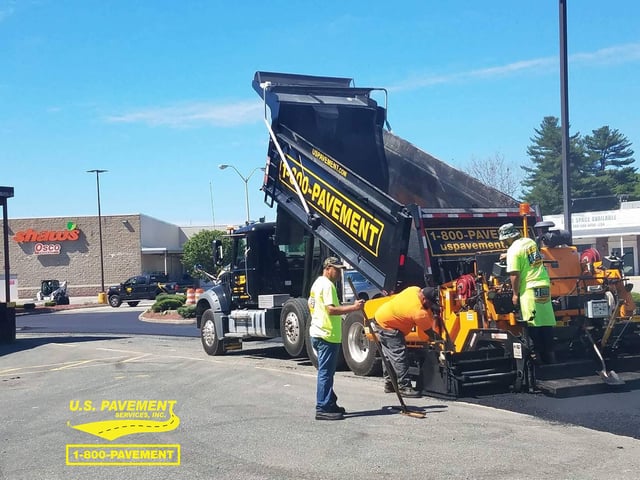 Industry-Leading Efficiency from our Production Team
Our Production team is led by Seth McNary who has nearly 10 years of combined experience in all levels of U.S. Pavement Services. This team's primary focus is keeping our turn-key capacity capabilities smooth, efficient and responsive to our client's unique needs and varying pavement projects. Our crews are positioned to deliver projects 24-hours a day and our equipment/fleet resources allow us the appropriate capability to ensure on-time delivery even with the often unpredictable nature of construction. This is not a small task by any measure but it is right in line with our team's flexible but results-driven approach.

Over 150 Years of Experience from our Construction Team

Our Construction team is led by Bill Garvey, who brings 30+ years of on-site construction experience to all of our projects. The Construction team works smoothly with Operations and our Project Managers, having over 150 years collective experience in the pavement industry, allowing U.S. Pavement the capacity to deliver large, intricate projects, with as little disruption to regular business as possible. Our overall Operations team is poised to deliver the right recommendations for your short-term and long-term goals. We also leverage wide-ranging external relationships for engineering, design, and other requirements as needed, all under one roof with one coordinated approach. The Construction team's invaluable insight, gained over decades in the industry, ensures that projects run smoothly from the initial evaluation to the final sign off.

A Customer-Focused Mindset from our Account Management Team
All of this delivery is structured in coordination with our best-in-the-industry customer stewardship, led by Senior Vice President David Musto, who oversees our entire sales force in New England. The team's account management is focused to ensure that our customer's needs are paramount throughout the process, and that our Operations and Construction teams are harnessing all of our resources in the most effective way to deliver the best customer experience. The team's customer-centric approach to sales, project management, operations and construction gives every project the consistent oversight necessary to keep everything on time and on budget.

Our coordinated, orchestrated approach to ensuring the best customer experience, along with the capacity to deliver any project and the expertise to handle all levels of complexity, is why U.S. Pavement Services is uniquely positioned to handle all of your pavement and concrete needs. There is no company in our industry with the overall resources capable of delivering this balanced approach every day. Learn more about the value we can add to your pavement and concrete projects by clicking here.