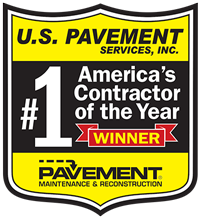 At this year's National Pavement Expo (NPE) held in Charlotte, NC, U.S. Pavement Services, Inc. received the #1 Contractor of the Year award from Pavement Maintenance and Reconstruction magazine. CEO Mike Musto accepted the coveted award and the company was singled out as the top paving and pavement maintenance contractor from a field of nearly twenty thousand eligible contractors nationally.
The award cites excellence in quality of work, safety records, scope and variety of jobs, community outreach and overall growth. Mike Musto credits the staff and crews for their hard work and commitment to customer service, stating, "Every job is an opportunity to improve our process and raise our standards and our team really takes that to heart."
Amy Schwandt, the magazine's editor said, "U.S. Pavement Services is not the biggest company, but their standards set the pace for the entire industry." That's gratifying to COO, Andrew Musto who spoke about the award at NPE, "When you're good, you tell people. When you're great, people tell you." He added, "It's great to be recognized by the voice of the industry but our high standards are an every customer, every job, every day pursuit."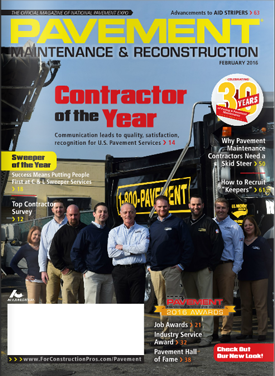 After more than thirty years in the business, awards are nice but not lost in the excitement is the company's core values which include a continued commitment to Made in America products and services, support for veterans and their families and our pledge to hire veterans initiatives.
There's more about U.S. Pavement Services and the #1 Contractor of the Year award in the February edition of Pavement Maintenance and Reconstruction magazine which can be read here>>.