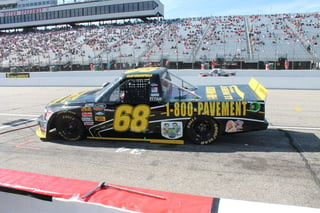 Friday night is NASCAR Camping World Truck Series night featuring the Nextera Energy Resources 250 #NEXTERA250 race at Daytona International Speedway. This year U.S. Pavement Services, Inc. is the proud sponsor of the #68 Chevy Silverado driven by Clay Greenfield. The truck, decked out in our signature black and gold colors and 1-800-PAVEMENT vanity number, will debut a brand new decal on the rear quarter panel. The decal is the #1 Contractor in America shield. It's the top industry award and something that stands out in the highly competitive environment of NASCAR racing.
Daytona International Speedway is hallowed ground for racing fans. It's the scene of the Daytona 500, NASCAR's biggest race of the season, often referred to as the Super Bowl of racing. The track itself is super-sized and is one of the largest outdoor stadiums in the country with over 125,000 grandstand seats. It's a place where the stars of the sport assemble and a win at Daytona places the driver among the legends of racing.
Clay Greenfield knows what a good showing at Daytona means. He finished 10th at Daytona in 2012 and was a top qualifier in 2013. He's been on the rise for a few seasons now and appreciates U.S. Pavement's continued support. "This is not the first time we've partnered for a race but this is by far the biggest race of my career", stated Greenfield. "The #68 U.S. Pavement Chevy Silverado team gives me the best chance to win in Daytona on Friday night."
VP of Business Development, Robert Pappalardo loves the visibility the truck and the decal receive at Daytona saying, "Last year 1.5 million people watched the Nextera Energy Resources 250 on TV so the opportunity for people to see our logo and vanity number as well as the #1 Contractor in America decal is huge for us."
CEO Mike Musto believes in Clay's talent and for him sponsorship is a lot more than branding and decals stating, "Clay's a part of our family and I've seen him grow as a driver. He's graduated from up and coming to serious contender."
The race can be seen on FOX Sports 1 Friday, February 19, 2016 at 7:30pm.