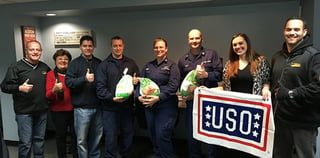 This holiday season U.S. Pavement Services delivered Thanksgiving Turkeys and Christmas trees to area veteran's organizations. This year marks the 4th year we have delivered the festive items to those who have served and are currently serving our country. Throughout the year, community support and making a difference by giving back are core values of our company.
On Tuesday, November 22, 2016 members of the U.S. Pavement Services team visited 3 locations in the greater Boston area to deliver turkeys and assorted canned goods just prior to Thanksgiving. The paving and pavement maintenance company has done this every year since 2014 as part of the larger, year round Pledge to Hire Veterans initiative. U.S. Pavement partnered with Market Basket of Woburn who provided 200 frozen birds for the giveaway. This year marked the first time U.S. Pavement Services donated turkeys to active duty service men and women through the USO-New England.
The first stop of the day was to the Veterans Service Office of Salem, MA. Service Officer Kim Emerling received the shipment and coordinated distribution to veterans from surrounding communities like Peabody, Beverly and Danvers. Kim has partnered with U.S. Pavement many times over the years and is a great advocate for the veterans in the City of Salem and beyond.
The next stop was to the United States Coast Guard base in Boston. Ashley Twigg, the Center Operations & Programs Manager for the USO-New England, organized the distribution of over 70 turkeys to active duty Coast Guard and Navy service men and women. It was an honor to give back to those serving our country currently and the looks on their faces and expressions of gratitude were something that won't soon be forgotten at U.S. Pavement.
The last stop of the day was closer to home for U.S. Pavement at the Veterans Services Center in Woburn, MA. Veterans Services Officer Larry Guiseppe assembled a contingent of about 20 people that included military veterans and firefighters from the city. U.S. Pavement also donated canned goods and additional food items that would go to local needy families. Larry is a tireless worker on behalf of veterans and their families in the City of Woburn.
On December 5, 2016 Mahoney's Garden Center delivered 100 Christmas trees to our newly renovated offices at 41 Industrial Parkway, Woburn, MA. We visited Louis Cimaglia at the Town of Wilmington Veterans Services office. Louis has been instrumental in assisting veterans in the area for many years and is a Vietnam veteran himself. From there we stopped at the Veterans Northeast Outreach Center in Haverhill, MA. Gail Hewins received the trees on behalf the hundreds of veterans from Haverhill and the Merrimack Valley that use the center. Woburn and Salem, MA veterans also received Christmas trees.
U.S. Pavement Services, Inc. believes in giving back to those currently serving in the armed forces and those who have served and are now veterans. The Pledge to Hire Veterans initiative which strives to raise awareness around veteran's issues overall and veteran employment specifically, is a core value of the company. During the distribution at the City of Woburn Veterans Services office U.S. Pavement Services Founder and CEO Mike Musto commented, "We are just offering our thanks and gratitude for what you guys have done and the time you served on our behalf. It's the least we can do." Along with Mike, VP David Musto, VP Robert Pappalardo, Director of Procurement Eric Pisani and Director of Marketing Eric Cox of U.S. Pavement Services delivered turkeys to veterans.