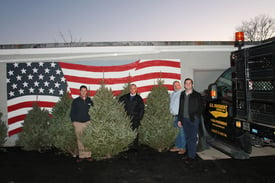 As the old song goes, Christmas trees are green when summer days are bright; they're green when winter snow is white. Hoping to brighten the holiday season for Veterans, the U.S. Pavement Services team led by CEO Mike Musto, donated 100 freshly-cut Christmas trees to Veterans this week.
The balsam fir trees were purchased from Western Maine Nurseries located in Fryeburg, Maine - about half of all Maine's Christmas trees begin in this small town in western Maine. For the past 30 years, 3rd generation owner Rick Eastman has worked to breed the perfect Christmas tree. His nursery is the exclusive supplier to 145 members of the Maine Christmas Tree Association.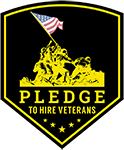 The majority of the trees were delivered to the Massachusetts Department of Veteran Services locatons in Woburn, Salem, and Wilmington - MA. Another 20 trees were dropped off at the Veterans Northeast Outreach Center in Haverhill, MA. "We live the lives that we do today because of the sacrifice these veterans have made for us, so giving back to this group is the least we can do to thank them for their service," said CEO Mike Musto.
The Christmas trees for Vets contribution is just a small part of our overall Pledge to Hire Veterans Initiative – started in 2014. The program was designed to "pave the way" for companies to hire veterans, help companies create career paths for Veterans, and finally to foster growth for this highly skilled but underemployed demographic.
U.S. Pavement Services it a leading national pavement and concrete service provider. Operating since 1985 - Our focus is on service, quality, and customer responsiveness.