On May 8, 2019, Woburn Mayor Scott Galvin issued a proclamation to U.S. Pavement Services Founder and CEO Mike Musto for his continuous support and dedication to giving back to the veterans of the city of Woburn.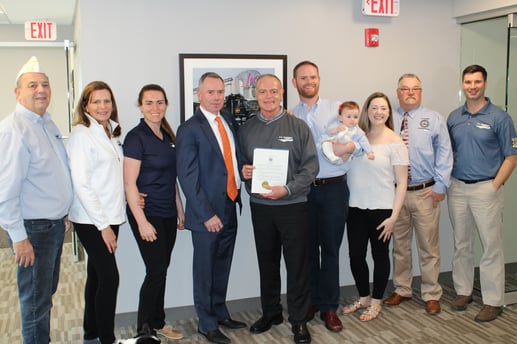 The Mayor presented the proclamation to Mike and family, graciously thanking him for his efforts over the years. "I can't say enough about what you do," states Mayor Scott Galvin to Mike. "If we had 100 people like you in the community, we'd have a lot more things going on. It's great to have you and we hope you stay forever."
In 2013, Mike and U.S. Pavement Services started the Pledge to Hire Veterans, an initiative inspired by the heroes they met during events supporting veterans. As the largest and most substantial charitable endeavor the company engages in, U.S. Pavement's entire culture understands the values and sacrifice the veterans take on every day, and they have adapted many standard operating procedures from the military into the company's day to day operations.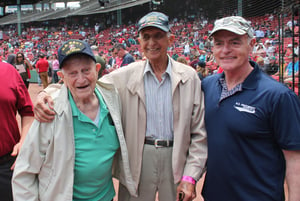 After partnering with the Boston Red Sox, U.S. Pavement began to host an annual Pledge to Hire Veterans Red Sox game. Now going into their 7th annual game, this celebration has grown to hosting over 300 veterans and their families for a full day at Fenway Park, and is just one way U.S. Pavement honors and thanks those who have sacrificed so much for the country.
As stated in the proclamation, "Each year for the last four years, Mike and U.S. Pavement Services have worked with Woburn Veterans Agent Larry Guiseppe to donate 100 Red Sox tickets for local veterans and their families, and, this year, they're expanding the Sox ticket donations to our Fire and Police Departments." At the event, U.S. Pavement donates Market Basket and gas gift cards to local Veterans Service Organizations (VSO) offices, including Woburn. In total, they have donated over $50,000 to date.
"Supporting our Veterans has always been a no brainer to me and my company," Says Mike. "I am honored and incredibly proud that the Mayor and others in this great city of Woburn have taken the time to recognize our efforts."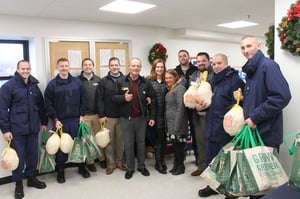 In addition, for six consecutive years around the holidays, U.S. Pavement delivers 200 turkeys and 100 Christmas trees to local veteran's organizations, to later be distributed to families, veterans and first responders of the community. The proclamation continues to state, "The tickets to Fenway are in addition to their longtime commitment to our veterans and our community during the holiday seasons – more than $5,000 and counting in gift cards for veterans, donations of turkeys with all fixings at Thanksgiving and, donations of holiday trees at Christmas time."