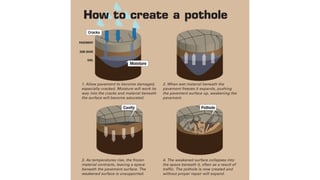 Recap below of an excellant article by Jessica Stoikes from Pavement Maintenance and Reconstruction - What Causes Asphalt to Crack and Pothole in Winter and How to Fix It. Perfect timing with the winter season now coming to a close.
Winter has long been the arch nemesis of asphalt roads and parking lots. The freeze/thaw cycle, salt, and snow plows -- especially when combined with traffic -- wreak absolute havoc on the condition of the asphalt. When the ice melts and spring rolls around, what will the roads and parking lots you've worked on look like? And what does that mean for your business?
First off, know that the pavement will be in worse condition than you saw it last fall. Hairline cracks will have expanded, areas with minor alligator cracking might now exhibit extensive alligatoring, and areas of slight depression or minor damage might easily be full-fledged potholes -- or potholes that were created and treated with temporary material during the winter.
Read the full article here