At the 3rd Annual Biggest Fun Ever event, the West End House Boys & Girls Club hosted over 300 community members. The Jaffier Family, Governor Charlie Baker and other public officials were in attendance for the biggest block party of the year. Members of the community got together to celebrate the beautiful life of Dawnn Jaffier, a lifelong West End House club and staff member whose life was taken far too soon.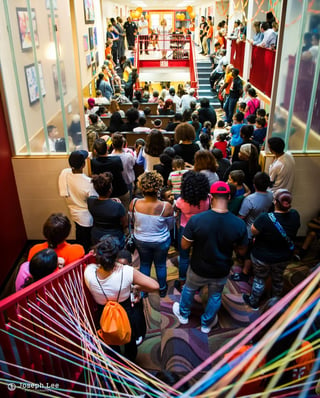 This annual event is dedicated to celebrating her passion for giving back to the community and her life's work of supporting Boston's youth. The night began with an outstanding performance of "Somewhere Over the Rainbow" by West End House member Carolina, followed by a spoken-word performance by Club member, Tyler. To highlight all of Dawnn's favorite things, the rest of the night was filled with family activities, an alumni basketball tournament, music, performances, and food. It was an extraordinary night honoring an extraordinary woman.
West End House Board President and U.S. Pavement COO, Andrew Musto remembers Dawnn and the positive energy she spread. "This is what the West End House is all about -- Bringing the entire community together to showcase what's great about our young people, future leaders, and just having fun!" Andrew says. "I'll always remember Dawnn's smile and her energy. If we can keep that dynamic spirit alive in our programs every day, then we're doing things right."
The West End House is one of Boston's most diverse youth development agencies. By providing life shaping programs to a wide variety of urban children, they work to ensure that the youth recognize their full potential and are prepared for future success as adults. The 1,500 kids currently calling the West End House home rely on the facilities and services that would not otherwise be available to them. Programs like academic and college preparatory programs, fitness and nutrition, leadership and career development and visual and performing arts are crucial difference makers in these kids' lives. The West End House continues to develop higher level programs while remaining true to the original ideas that were in place at its founding in 1906.