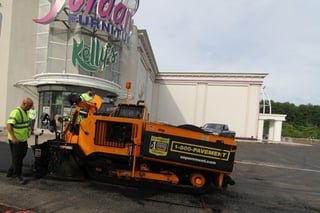 U.S. Pavement Services recently completed a precise and very technical mill and pave project for Jordan's Furniture and Kelly's Roast Beef in Framingham, MA. The scope included mill and overlay of the main entry and exit roads, the main loop around the Jordan's parking lot and building, and the Kelly's Drive-Thru lane. We also completed drainage reconstruction and line striping of the entire campus. This project was truly a team effort made by our paving, milling, and striping crews but still nothing out of the ordinary for us. All of our business partners, like Jordan's Furniture and Kelly's Roast Beef have come to expect only the best workmanship coupled with outstanding value from our crews.
Our crews spent four days completing this intricate job with no disruption to the customers of Jordan's Furniture or to the residents of the area. The entire milling phase of the project was completed within the first two days on-site. Paving began late on the second day and was completed by the fourth day. The line-striping crew arrived late on the fourth night to stripe the entire campus. By the opening of business the following day, Jordan's Furniture had a beautifully marked lot and Kelly's Roast Beef had a newly paved and marked drive-thru lane. No matter the scope, the time of day or special circumstances, our crews execute the plan professionally and on time. Attention to detail and willingness to go the extra step to ensure customer satisfaction is just part of the job.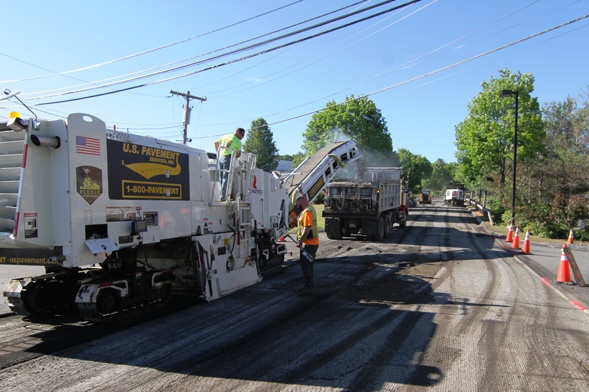 U.S. Pavement Services is uniquely positioned within the asphalt maintenance industry to coordinate and perform complex projects no matter the scope. Whether it is paving, milling, striping, sealcoating, crack filling or infrared repairs, we pride ourselves on our ability to meet and exceed the expectations of our clients. View our full project profile here and on our WIX site.