Massachusetts based U.S. Pavement Services, Inc. has expanded its paving and pavement maintenance operations to the Carolinas. Original 800 PAVEMENT Network member Rick Adkison and his long-time staff and crews will now operate as U.S. Pavement Services based in Charlotte, North Carolina. Rick will serve as General Manager of the newly created division, overseeing all operations in the region.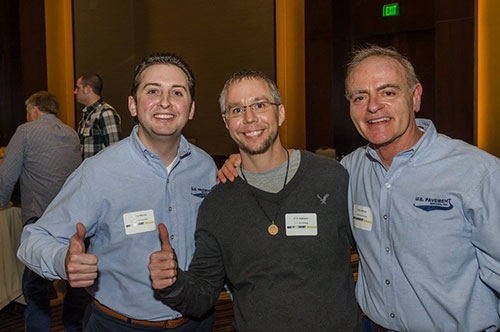 Rick's successful track record as a pavement professional and recognized industry leadership in the area allows U.S. Pavement Services to gain an established foothold in North Carolina, South Carolina, Georgia and Virginia. Rick's addition to the U.S. Pavement Services family is a natural fit for CEO Mike Musto. "I've known Rick for over twelve years and from Day One he has shown a genuine passion for this industry. He's converted that passion into a thriving business in a competitive region which is why he fits perfectly with our company."
Previously as owner/operator of Sure Shot Sealing and Striping, Inc. Rick Adkison relentlessly marketed and built his business using the 1-800-SEALCOAT vanity number. He developed his company from a single sealcoat crew in 2000 to the full service pavement operation it has become today. "It is hard to believe that the company I started with an old one ton truck, a tagalong seal coat trailer, limited resources and a dream 16 years ago has positioned me to partner with the #1 pavement contractor in America," said Adkison. He added, "I have worked closely with US pavement services for over 12 years and they have played a key role in molding me and my company into what it has become. US pavement services has been like family to me so this partnership makes me feel like I am at home"
Commenting on Rick's addition to the team, Chief Operating Officer Andrew Musto, said, "Beyond being a friend, Rick has truly become an extension of our operation in the Carolinas over the years. His experience with both property managers and national retailers positions us to serve that market at unparalleled levels. I'm proud to have a person like Rick on our team and look forward to showing the customers of the Carolinas how we can provide value."
Customers:
Customers in the region can expect the same high standards in customer service and quality of work that is synonymous with Rick Adkison and U.S. Pavement Services, Inc. In addition to the ever present 1-800-SEALCOAT vanity number Rick has made famous in region, customers can now dial 1-800-PAVEMENT to reach Rick directly as well. The added exposure in the market is something Rick believes is good for business and for customers. "I know personally what the 800 numbers can do for business. Having the additional vanity numbers as well as the support and resources of the entire team means I can do more for my customers on all levels."
Rick's dedication and hard work has earned him a loyal following of satisfied customers. In his role as General Manager of the Carolinas region, Rick will bring his expertise to an expanded territory and offer state of the art pavement services such as infrared seamless patching. He looks forward to bringing increased value to his clients as a result of the partnership.
Vendors:
Vendors and partners of U.S. Pavement Services, Inc. now have additional business opportunities with increased offerings, extended seasons and larger territories spanning two distinct regions. Vendor relationships and business partners cultivated in each region have new opportunities to expand product reach and market share. Ultimately all of our partners, including clients, benefit from this expansion of operations. Procurement and Security Director Eric Pisani says everyone wins when services, capabilities and scopes are expanded. "We are always looking for the best possible pricing for ourselves and our Network Members. Whenever there is growth within the company everybody benefits and our vendors, who we consider business partners, are no different."
Network Members:
New England based U.S. Pavement Services, Inc. is the founding member of the 800-PAVEMENT Network and a self-performing paving and pavement maintenance contractor. The expansion of its services and operations as a contractor to the Carolinas region only strengthens the entire Network. Network Members in the region as well as across the country will continue to benefit from the advantages the Network provides without disruption. Chief Operating Officer Andrew Musto believes a strong and growing network helps everyone. "Our unique model allows us to provide an in-house feel covering the entire country. Customers appreciate that balance. The closer we all work together as a Network, the more our customers and ultimately we all will benefit."
USP Employees:
Employees have seen firsthand the unprecedented growth U.S. Pavement Services, Inc. has experienced over the last 5 years. With growth comes opportunity and CEO Mike Musto recognized this as a two-part opportunity. "The addition of Rick Adkison and his team to U.S. Pavement Services allows the company to confidently expand to the Carolinas while upholding the industry's best standards and practices established by our staff and crews here in Woburn, MA over the last 30 years." Mike added, "The people who work here are like family to me and I'm passionate about creating a stronger organization for our employees to thrive in."