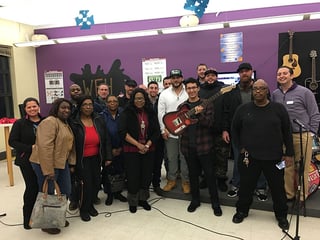 Just about a year ago, we lost a beloved member of the U.S. Pavement Services family, Danny Dailey. Danny's spirit is felt in our hearts and his memory will never fade from our minds.This week, COO Andrew Musto accompanied by Joe Pires, Kynan Mello, Daryl Womack, Seth McNary, Christopher Palmerino, Scott Gallagher, Jesse Luongo, Hugh Gillen and Joe Crowley, Jr. joined the Dailey family at the West End House Boys and Girls Club of Allston, MA to present a custom made guitar to the music program in Danny's name.
The students in the program performed on the occasion and the assembled crowd heard singing, saw a dance performance and a live band. After the presentation Danny's guitar was quickly tuned and used in an impromptu performance.
Danny was known to love live music and even played a little himself. He would have thoroughly enjoyed the energy and enthusiasm of the young and talented group. Danny's family and co-workers certainly felt his presence in the festive atmosphere.
One year later Danny's life is being remembered and celebrated and his love of music is being passed along to a new generation. It was only fitting that someone who brought so much joy to those around him in life is honored by music and the joy it brings to others.