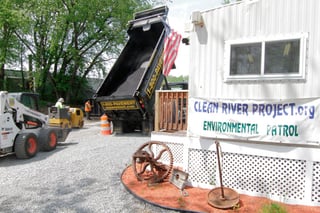 U.S. Pavement Services donated their time, equipment and asphalt paving services to create a sorting surface for the Clean River Project in Methuen, MA. This platform will make it easier for the Clean River team to sort through the debris pulled from the Merrimack River and separate recyclables without including gravel in the mix. The gravel content was causing some debris loads to be rejected and the newly donated asphalt surface now allows for a cleaner process. U.S. Pavement paving Crew 2, Daryl Womack, Immer Chavarria, Bob Anderson, Kynan Mello, Dan Baker, and Scott Gallagher were pleased to donate their time and expertise for this great cause.
Clean River Project director, Rocky Morrison knows all about the pollution problem in the 110 mile river. In 2005 Rocky started his mission when seeing the river at one of its lowest points. He states, "I was not only amazed but disgusted at the trash visible within the banks and bushes of the Merrimack River." Car engines, household appliances, furniture, construction barrels, and over 1,000 tires is just a short list of the endless amount of debris and junk that has been pulled out of the river. Rocky challenges individuals throughout the community to answer the simple question, "Do you know what's in your river?" By bringing their story and other information into schools and companies, the Clean River Project is determined to spread knowledge about the cause and physically get people out on the water. With the help of individuals and sponsors who are looking to give back to the community, the Clean River team has confidence that the river will continue to steer far away from the lowest point Rocky first saw it at.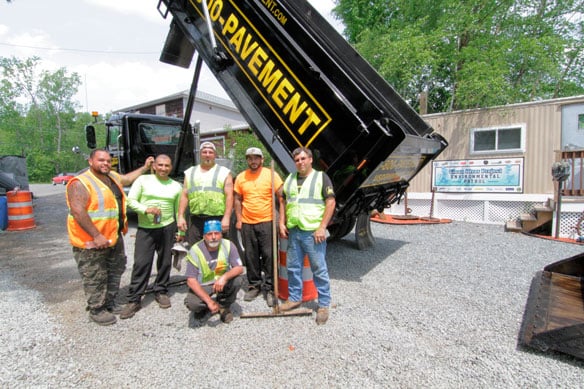 U.S. Pavement Services firmly believes in volunteering in the communities it has serviced for over 30 years. Reclaiming and reusing asphalt and concrete is an established operational component. Over 90% of all asphalt and concrete used by the company is recycled material. U.S. Pavement Services is committed to clean and environmentally friendly initiatives like the Clean River Project.
About Clean River Project
Clean River Project Inc. is a non-profit organization dedicated to the cleaning and preservation of our nation's rivers, lakes, and streams. Our mission is to clean, protect, and provide a safer water supply to the many cities and towns who rely heavily on this natural resource. We are committed to improving water quality by raising environmental awareness through education and prevention. To develop community based projects and programs that reduce and recycle pollution, promote safe clean waterways and healthier drinking water. We shall create one collective voice in the future policy, planning and management of our water by fostering partnerships and working together with community leaders, area businesses, other organizations, federal, state, and local governments for healthy, safe, clean drinking water.