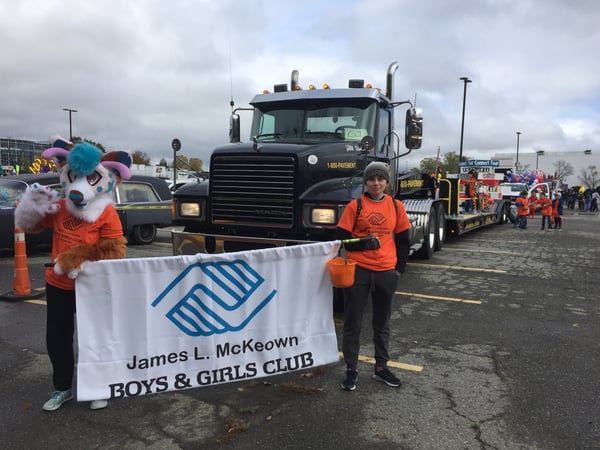 U.S. Pavement Services partnered with the James L. McKeown Boys and Girls Club of Woburn for Woburn's 64th Annual Lions Halloween Parade on Sunday, October 28th. U.S. Pavement worked with the Club members and staff to decorate the low bed truck and transform it into a float for the parade.
"Parade Sunday" is the last Sunday in October and is a tradition in Woburn, with over 80,000 people joining together along Main Street to cheer for the bands, wave to the floats, and celebrate Halloween. The 2.2 mile parade route starts at Crowne Plaza/Showcase Cinema traveling south on Main Street to Woburn Center continuing onto Lake Ave at the Winchester line ending at Horn Pond.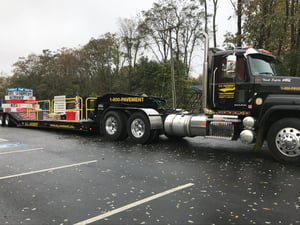 U.S. Pavement and the Woburn Boys and Girls club worked together to build life-size board games such as Monopoly, Connect Four and Checkers to put on the float. The club members rode on the back of the low bed truck, dressed up as their favorite book characters and threw out candy to the crowd.
"It's very important to our company and our family to give back in the communities where we do business," U.S. Pavement VP of Sales David Musto says. "The Woburn Boys and Girls Club is near and dear to us, so participating in the nation's largest Halloween parade is a no brainer."
For more than 40 years, the Boys & Girls Clubs of Woburn has been providing quality programs to children and youth aged 6-18 in neighborhoods where the needs are the greatest. The Woburn Clubhouse serves more than 2,600 youth members, five days a week, and 12 months a year from Woburn and surrounding communities.