For the seventh consecutive year, U.S. Pavement Services has been ranked among the Top Contractors in the nation by the voice of the industry, Pavement Maintenance and Reconstruction Magazine.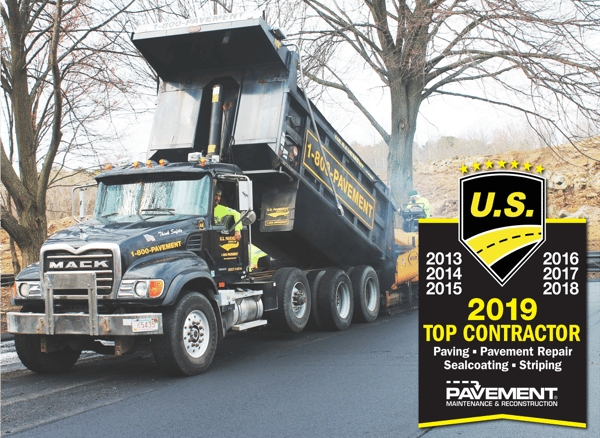 Each year the Top Contractor awards recognize the top contractors in four industry-specific categories: paving, sealcoating, striping, and pavement repair. This year, each category has recognized 50 contractors, and U.S. Pavement has been ranked in all four categories.
"Our growth is the result of taking care of our customers, one job at a time," Says USP CEO Mike Musto. "I have believed that since the beginning and I am very proud that our entire team has adopted this approach to serving our customers."
The Top Contractors are chosen annually based on their gross sales volume from the previous year, a breakdown of the work that generated those sales, and third-party verification of the sales total. This year, the overall 2018 sales dollars of the qualifying contractors reached more than $1.055 billion, with the average contractor generating just over $14 million in annual sales, according to Pavement Magazine.
"Our team works incredibly hard, and to be recognized for that year after year is very exciting," Says Musto. "Furthermore, this award is a motivation for us to work even harder and continuously better ourselves for the years to come."
U.S. Pavement is built on the balance of in-house, self-performing crews since 1985 and the family of businesses that operate under our 800 PAVEMENT brands. U.S. Pavement's growth has been defined by their people and their commitment to redefining what it means to be a professional contractor.
To learn more about the 2019 Top Contractor awards, check out the June/July issue of Pavement Magazine.
About Pavement Maintenance & Reconstruction
Pavement Magazine is the leading magazine serving contractors in the paving and pavement maintenance industry. The publication is distributed to 18,500 contractors in the paving, sealcoating, pavement marking and repair segments. Pavement is part of the AC Business Media Construction Network, which reaches more than 240,000+ construction professionals.