U.S. Pavement COO Andrew Musto and Director of National Accounts Blake Kelly joined the Team Depot army this week in Asheville, NC at The Home Depot Foundation's Building Services and Operations event. Andrew and Blake helped improve the homes of U.S. veterans at ABCCM Veterans' Restoration Quarters. The Home Depot Foundation and Team Depot, a 400,000-strong army of associate volunteers, work to improve the homes and lives of U.S. veterans, train skilled tradespeople to fill the labor gap and support communities impacted by natural disasters.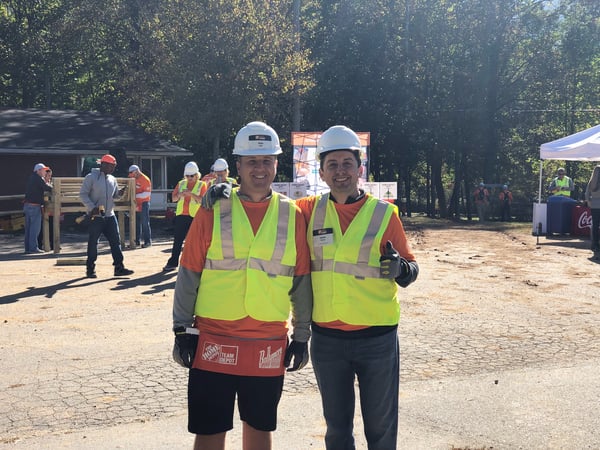 U.S. Pavement has a longstanding dedication to giving back to the communities they serve, and Team Depot leads another initiative that helps pave the way for veterans to find opportunity and advancement here at home. "It's a privilege to work alongside the Team Depot team living out their core values of 'giving back' and 'taking care of people'." Andrew says. "For us, it's a true honor to be able to collectively fulfill our duty to those that protect our country and freedom around the world."
In 2013, U.S. Pavement Founder and CEO Mike Musto started the Pledge to Hire Veterans as an initiative to give back to the veteran community and to pave the way for companies nationwide to hire veterans. Going hand-in-hand with U.S. Pavement's Pledge to Hire Veterans campaign, in 2018, the Home Depot Foundation committed $50 million additional dollars to train 20,000 skilled tradespeople over the next 10 years starting with separating military and veterans, at-risk youth and members of the Atlanta Westside community.
"The Home Depot Foundation leads in so many ways in veterans-related causes and we couldn't be prouder to be a part of their impact." Blake says. "Its a rare opportunity to develop such a strong partnership that goes beyond just business, and we appreciate the chance to work together on so many levels."
The Home Depot Foundation works with a small group of the nation's most engaged and respected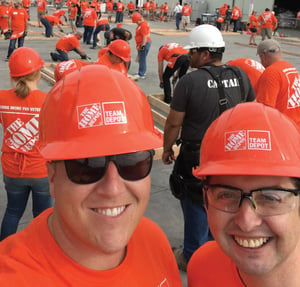 nonprofit partners, along with thousands of local nonprofit organizations to directly address the needs of our veteran communities, as well as to help families impacted by natural disasters.
U.S. Pavement's entire culture understands the values and sacrifice the veterans take on every day, and The Pledge to Hire Veterans is the largest and most substantial charitable endeavor that the company engages in. They have adapted many standard operating procedures from the military into the company, and in addition to leading this initiative internally, they have rolled out the Pledge to Hire Veterans to all 215 contractors in the 800 PAVEMENT Network, encouraging them to hire veterans and shining light on the benefits veterans can bring to their organizations.