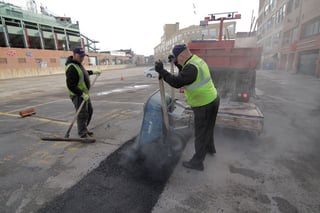 There is nothing like opening day at Fenway Park after a long cold winter. The Red Sox are back in town to begin the season and U.S. Pavement Services, Inc. is doing its part to get Fenway ready for another year.
Our crews spent the day getting three separate parking lots ready for the throngs of baseball fans who will visit the park throughout the season. Just like the players need spring training to get in shape for the season, Fenway's parking lots also needed to get in shape too but our teams were already in midseason form.
New England winters can be harsh on asphalt surfaces. Potholes and severe cracking present trip hazards for fans attending games. Our crews are well equipped to service the lots using our 2 infrared trucks and another crew dedicated to repairing potholes. The finishing touches were applied by our striping crew with freshly painted parking spots and markings for safe and easy maneuvering in the lot. With hundreds of thousands of baseball fans visiting Fenway Park over the next 6 or 7 months, it's easy to see why the Boston Red Sox chose the #1 paving and pavement maintenance contractor in the nation.
This is U.S. Pavement Services' fifth year prepping the parking lots at Fenway but the relationship with the Red Sox runs deeper. The two organizations share a core belief in supporting our military veterans. U.S. Pavement Services will host three hundred veterans on June 4th for a game against the Toronto Blue Jays and one veteran will throw out the first pitch that afternoon. We're proud to be partners with the Red Sox in this effort.
Good luck to the Boston Red Sox and to our U.S. Pavement Services team this upcoming season.