Spring is upon us and PRSM is around the corner. The interaction and partnerships that are built on PRSM show floors are invaluable and gives us the opportunity to learn more about your needs beyond just an RFP or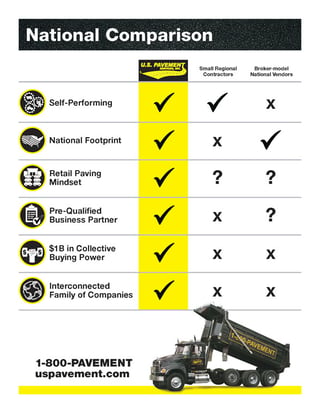 spreadsheet.

National Coverage/Local Knowledge
U.S. Pavement Services self performs all scopes in New England. It's a clear and defining distinction from the broker model approach most national paving companies employ. We have a knowledge base and expertise that can only come from doing the work ourselves. Our self-performing crews and exclusive partners across the country are all trained on the "retail paving" concept. It is our standards that must be met long before they are assigned to your properties. In addition, we go well beyond "call center" project management with a team of PMs who visit sites in person and dedicated personnel in-house who are focused on successful outcomes for your project.
$1B in Collective Buying Power
$1B in collective buying power across our network means we can pass along savings of negotiated special pricing available as a result of our long-standing relationships with major material suppliers across the country. It's an unmatched advantage in the industry that allows us to deliver upwards of 15% savings back to you in some instances.
Your Pre-Qualified Business Partner
As your pre-qualified business partner we are vetted, equipped and operational on your vendor portal, meeting all benchmarks and standards as required. Ease of engagement and use are only one half of the equation, however. We are familiar with your site managers because we meet them. We speak your company's shorthand and share your values. The personal connections formed over projects proposed, performed and completed over the years make us more of an extension, with your needs placed first, than any broker or standard vendor.

Booth #1401
Stop by booth #1401 to discuss all the services we can offer while providing the customer experience your team knows and expects. We look forward to a great PRSM 2017!